Getting ready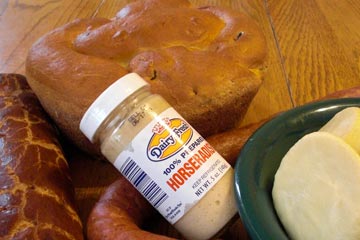 Some of the food I bought for tomorrow's Easter brunch we're having with the family.
When I was a kid, mom would have made the Easter bread (top center)—without raisins, of course—and the nutroll (lower left). She never made pierogis (right) and we bought our kielbasa (center, bottom) from the store.
Fortunately I can go to the West Side Market and get the baked goods from Nancy at Christopher's Bakery, the pierogi and horseradish from Meister's, and the homemade kielbasa from J&J Sausage.
Here's more about these folks and other WS Market shopping recommendations.
Top of page |