SLO and beyond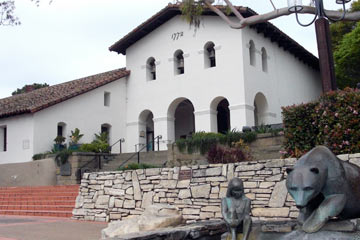 The old San Luis Obispo mission houses a small historical museum but much of it is still used for church services and events.
Morro Bay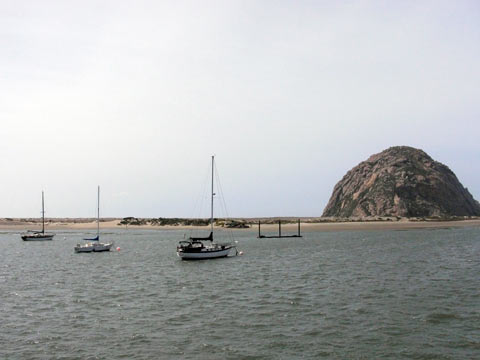 We took a city bus to Morro Bay, hoping to spend a little time at the beach.
Instead we walked around the small tourist town and looked out toward Morro Rock. The ocean is on the other side of the spit of sand in the distance, too far to walk to with the limited time we had.
In general I like to let other people do the driving (train, bus) but in this case it would have been nice to have a car. We could have easily fit a picnic on the beach into our schedule if we didn't have to catch a once-hourly bus back to town.
Onward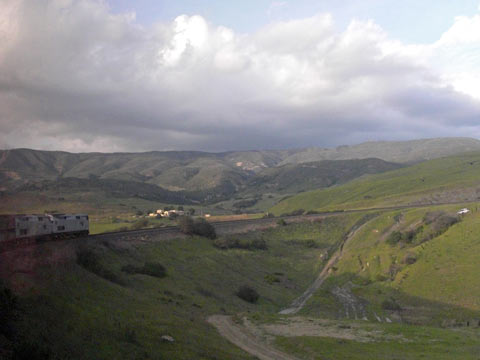 After taking the bus back to town we returned to the Amtrak station to catch the Coast Starlight, one of the system's premiere trains.
Here we're heading out of SLO, climbing the hills via a series of hairpin turns.
For the first time in more than twenty years we paid the extra bucks ($180) for a sleeper.
Since all meals are included in the price and we would be on the train for about 24 hours, this worked out to be a fairly good deal. We liked it even more when the car attendant brought us each a small bottle of champagne as we pulled out of the station.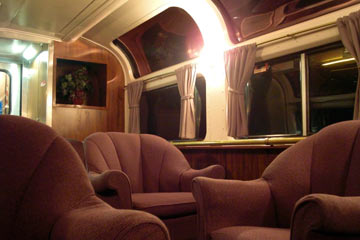 One could learn to like this.
The Parlor Car, as far as I know only found on the Coast Starlight, makes a conscious effort to recreate the luxury days of rail travel with brass, wood, and upholstered chairs.
Top of page |