This is shameful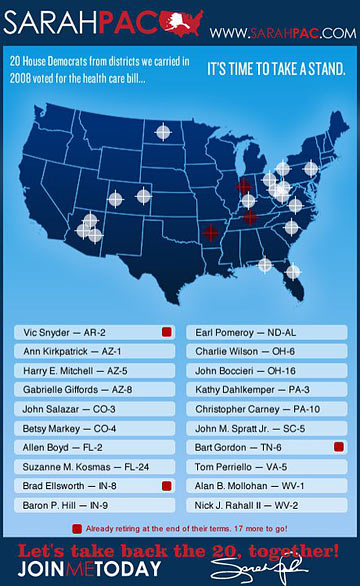 Of course Sarah Palin and others who rally their supporters with words like "Don't retreat, instead, reload!" are horrified about today's murder of a federal judge and attempted assassination of Congresswoman Gabrielle Giffords in Arizona.
Of course they were speaking metaphorically when they said these things.
Of course the crosshairs on the map weren't really supposed to make people think of gunsights when people saw them on the SarahPAC Facebook page.
Of course Jared Lee Loughner, the man accused of shooting the judge, the congresswoman and fifteen others may have no political sympathy for Ms. Palin. He may just be a crazy guy with a gun.
But here's the point: we have lots of crazy guys with guns in the United States. Anyone who is a public figure (Sarah Palin, Glenn Beck, etc.) knows this, and needs to accept some responsibility when their words push our political dialog in a dangerous direction.
Crazy people with guns should get no encouragement—intentional or not—from anyone in the political arena to act out their violent fantasies.
It's not brave or bold to use the language of violence to frame your political arguments. It's dramatic but totally irresponsible. It may win you votes, but it may cost someone else his or her life.
It's shameful.
Top of page |