Around & about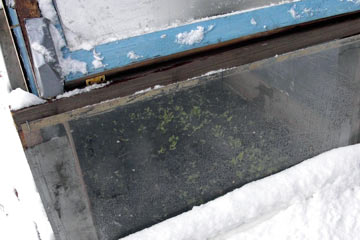 It was kind of amazing to find green lettuce sprouts still surviving in my backyard mini-greenhouse after a week of temperatures in the 20s. Unfortunately it's been nearly two months and they haven't grown much at all.
Still, with a few more sunny days maybe I'll get what they call "micro-greens."
Sand art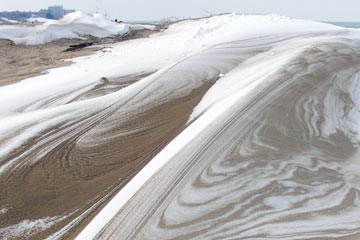 It was crisp and clear, a great day for a walk to Edgewater Park. Near the beach the wind has transformed piles of sand into sculpture.
Irish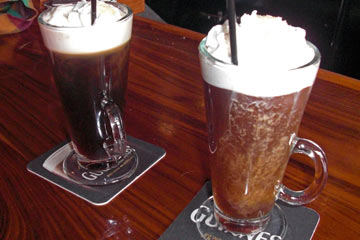 On the walk back home we stopped at Stone Mad, an "Irish" pub on West 65th Street. An Irish Coffee seemed like a perfect way to warm up after our walk to the lake. They hit the spot. Mine, on the right, had a generous dose of Irish whiskey added, while Joanne asked for a less-Irish shot of Kahlua.
We chatted with one of the co-owners, only one generation removed from Ireland. Since lots of places pretend to be Irish I was happy to find out that both co-owners are truly of Irish heritage.
Based on our limited experience of a week in Ireland last summer, Stone Mad does a good job of recreating the pub experience on the west side of Cleveland.
Falafel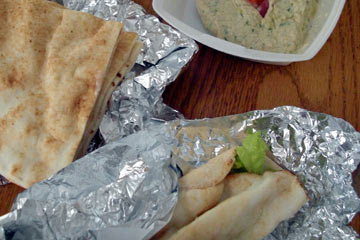 A few blocks further south on 65th (corner of Franklin) we stopped in at Frank's Falafel House, the newest occupant of the long-dead Domino's Pizza place.
I was a little worried to see on the daily menu "Shrimp Stir-Fry"—not the most authentic Middle Eastern dish. We ordered Baba Ganoosh, a falafel sandwich, and a Chicken Philly sandwich to go.
The baba wasn't nearly as good as my gold standard, Nate's Restaurant on West 25th. It had a strong smoky flavor (good) but not much else. The falafel, on the other hand, was good. Not over-spiced as some, but crunchy and tasty. It didn't meet the high standards of my favorite from Maha's stand at the West Side Market, but I'd definitely order it again.
The chicken philly was good, and since we had a total bill of $10 it's hard to argue with the value. Definitely a good alternative for those times when Nate's is closed.
Steamy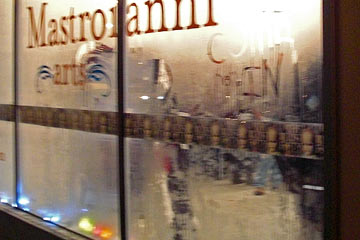 We wrapped up the day with a visit to Mastroianni Arts in Tremont, where a group of Tri-C Photography students had put together a show called First Fifty. The place was packed with warm bodies, as this steamy storefront window shows.
The photos on the walls, if you could elbow your way to them, were technically well done, something I've come to expect from our students.
Artistically there was something for nearly everyone, with the exception of portraits and figure studies. Not sure if that was deliberate or coincidental. Still, I was happy to see that quite a few of the photos had been bought at the $50 fixed price. It's a great encouragement for the students to keep working.
Top of page |