Shopping at the West Side Market, Part 1
I've shopped at Cleveland's West Side Market every once in a while since I was a kid (too many years ago) and on a weekly basis for at least twenty years. So I'm going to share a few things I've learned, to make your shopping trip more fun, more productive, and less stressful.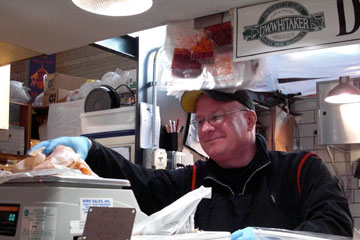 Rule #1 is that shopping at the Market is all about people: those who sell you stuff and those who shuffle around with you trying to find the best produce, meat and cheese.
If you're in a hurry, if you want to grab something quick & easy off a shelf, head for the supermarket. The Market is way more fun if you slow down and talk with people while you're shopping, like Tim at D.W. Whitaker.
Still, a little planning always helps.
Pick your day
Saturdays are the busiest, especially around lunch. Expect wall-to-wall people, mostly from the 'burbs and out-of-town. If you love the energy of a crowd it's great. If not, go earlier or later. Since Saturday is a big day you can expect all the merchants to be well-stocked.
Friday you'll find fewer shoppers, but more than on Wednesday or Monday. Monday is the slowest day, probably because people did their shopping on the weekend. You won't have to fight your way to the counter, but on the other hand you may find a few merchants closed both inside and out.
Pick your time
For the best selection of everything, go in the morning. The Market opens at 7, but I'd wait until 8 or 9 a.m. to be sure that all the vendors are fully set up and ready to go. If you go early you'll find that Christopher's has every flavor bagel you want (including poppyseed, mishmash and sesame), while in mid-afternoon you'll be lucky to get a half dozen plain.
For great bargains on produce, go late Saturday afternoon (after 4 pm). Merchants want to get rid of what they have, especially the most perishable items, and will bargain with you on almost everything. You might get a whole crate of strawberries for what you'd pay for a quart at the supermarket. You won't find as many bargains on other afternoons (especially Friday) because vendors can put things in the cooler for another day.
Unfortunately I often ignore my own advice, being too lazy to get to the Market early on Saturday. I end up fighting the crowds outside and getting short-changed on the bagel selection inside. But I have to admit I like the hustle & bustle of the crowd.
I'll have more advice on where to shop in coming installments.
Next
Favorite outside (fruit & vegetable) vendors
Favorite inside (meat, cheese, poultry, bread, etc.) vendors
Prepared food inside the Market
Where to eat at and near the Market
Other nearby spots worth a visit
Top of page |