The King approves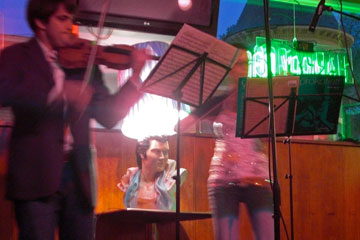 Backed by neon and watched by the King himself, two musicians crank out a little Prokofiev at the Happy Dog.
We munched on the Dog's crunchy tater tots and listened to chamber music played by members of Classical Revolution Cleveland, a group that brings classical music to new audiences at bars and cafes.
As we left after two hours, more musicians were arriving for what apparently was a night-long jam session, classical style.
This local chapter of a nationwide group has an active concert schedule including the third Tuesday of each month at the Happy Dog.
Top of page |