Capturing time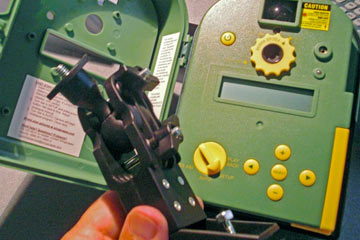 Somewhere I saw mention of an inexpensive digital time-lapse camera called the Plantcam.
The reviews at Amazon.com were good: 4.5 stars out of five. The price seemed reasonable, about $75. But what would I do with it?
As I thought about our upcoming vacation at Kelleys Island I realized that this would be a good way of capturing an overview of our time there.
I plan to mount the camera to a tree, looking out toward Lake Erie, and snap a picture every hour or half-hour. Assembled into a movie they'll show the changing light, weather, clouds, etc. It will be like my collections of sunrise photos (2008, 2010) but much more comprehensive.
Camera quality
I'm impressed with what you get for a reasonable price. The camera body is sturdy plastic with a clamshell cover that latches tightly. There's a well-made clamp mount as well as a strap and bungee cords that let you attach it to nearly any object.
The parts are mostly plastic, but metal is used at stress points, like thread liners for the bolts and the tripod mount itself. My Casio digital camera uses only plastic for its mount.
The controls are easy to use and clearly identified. The set-up process isn't much harder than setting the time and date on a digital watch.
I'm very happy with what came in the box, including four AA batteries needed to make it work.
It always annoys me when the manufacturer saves a few cents by making you provide your own. It's not even the money that I mind, it's not being able to use the thing right out of the box.
Congratulations to Wingscapes for a well-designed, well-built product that includes everything you need.
Picture quality
My first test movie shows the play of light and shadow in my backyard over the course of the afternoon. Pretty boring stuff.
The bright sun washes out the image some of the time. It looks best in shadow. These images were capture at the "Video" resolution, 640 x 480 pixels.
Tomorrow I'll do another test using higher resolution (2048 x 1536) to capture still images that I'll assemble into a video using iMovie.
At this point I have to reserve judgement on the image quality. I'm not happy with what you see here, but may be able to do better by tweaking the settings.
Top of page |