Disappointing burger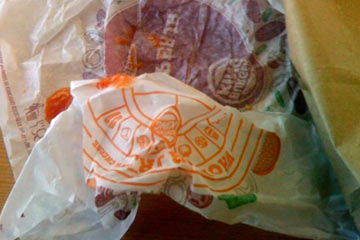 It's been a while since I had a fast-food burger, so I decided to try one of my old favorites, a Burger King Whopper Jr.
Years ago when I was teaching at Herron School of Art I ordered one at the Cleveland airport every Monday before boarding a flight to Indianapolis.
The years haven't been kind to the Whopper Jr., or my tastes have changed dramatically. What I remember as meaty, juicy and flavorful was pretty bland.
I think I've learned my lesson. The last time I ate at Burger King was this past May when I ordered a veggie Whopper which turned out to be better than I expected. I guess this meat thing just isn't doing it for me anymore, at least when it comes to fast-food burgers.
Top of page |