Shopping at the West Side Market, Part 2
After more than 20 years of shopping at Cleveland's West Side Market I thought I'd share a few tips I've learned, often the hard way. Last week I talked about the best day(s) to shop. Today I'll tell you which vendors I like, and why.
Outside
The first decision you have to make is whether to start inside (meat, cheese, bread, etc.) or outside (mostly fruit & vegetables).
I check my shopping list and finish with the heaviest foods so I don't have to carry those bags everywhere (ten pounds of potatoes and a watermelon get heavier and heavier the longer you walk).
Most weeks I skip the potatoes and watermelon and start at my new favorite fruit & vegetable stand, The Basketeria. They stock more organic and locally-grown food than anyone else, and are nice folks to boot. What they don't have I fill in from other vendors.
A word of warning:
Don't buy based on price alone. Look carefully at the fruits and veggies on display, and be careful if the vendor fills your bag from a box behind the counter. Before walking away check what's in the bag to be sure it looks like what you saw on the stand. This is especially true if the vendor doesn't let you pick your own from what's on display.
If you're like most people you'll start with the long east/west arcade, usually the busiest. Be sure to turn the corner and check out the north/south arcade. In addition to The Basketeria, you'll find the potato stand, a place that specializes in Ohio apples, a fresh flower stand and more.
Inside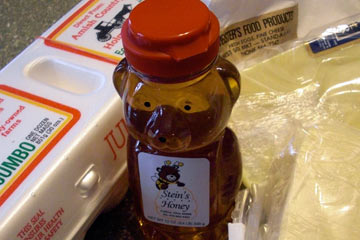 You'll probably spend most of your time and money inside buying meat, cheese, etc. Here are the stands that over the years have earned my patronage.
Meister's Dairy
Excellent selection of cheese plus Amish eggs, honey, fresh-ground peanut butter, pierogi, and more. Ed and his staff are great fun to talk with.
Christopher's Bakery
Say hello to Nancy and stock up on bagels (from Bialy's) and great bread (from Stone Oven). If you're lucky you might find a few spinach pies, sweet potato scones or Russian tea biscuits tucked away in a corner of the display case. Also, you have to try the Rosemary-Garlic dinner rolls.
D.W. Whitaker Meats/Deli
My source for pork loin, etc. as well as deli meats (ham, turkey, etc.). Good quality & prices, friendly folks. They also sell chicken, but I usually get mine at...
Kaufman Poultry
Bell & Evans and/or Amish-raised chicken, homemade chicken sausage, etc.
Ohio City Pasta
All sorts of interesting, freshly-made pasta. I try to keep a couple of packages in my freezer for special occasions. The ravioli is pricey but worth it. Butternut squash, eggplant, lobster, and more.
Cake Royale
Absolutely fabulous desserts. I've tried cheesecake, tiramisu and other treats, and never regretted a one (except for the hundreds of calories in each bite).
Annamarie's Dairy
If you need organic/local dairy products this is the place. She carries Hartzler's Dairy milk in glass jugs, just like in the old days.
Kate's Fish
I don't eat much fish, but Joanne does, so I occasionally stop here to pick up organic Scottish salmon or some other treat. Many friends recommend Kate's.
Mediterranean Imported Foods
Tucked away in the extreme northwest corner of the Market is a tiny store jammed with imported food, from chocolate and coffee to dried fruits, olives, and exotic cheese. If you need an unusual ingredient for a recipe you're trying, you'll probably find it here. Their French feta is the best.
Hungry yet?
Next week I'll share my ideas on where to buy ready-to-eat food inside the Market. Used to be only one good choice (Frank's Bratwurst), but now there are many.
Top of page |