Frustrating start, satisfying finish
Today, the second day of the Spring semester started with 1 a.m. emails to instructors and students who'd written about a variety of problems that had cropped up on Day 1. Confusion about room numbers, textbooks, that sort of thing. Later, around 9 a.m. I sent off another round of emails plus a phone call or two and mentally patted myself on the back for putting out these brushfires.
Not quite. When I read my office emails later in the day it seemed that in at least one case I'd thrown gasoline on the fire. Not on purpose, but still. And the rest of the day continued pretty much in that vein. When I got home at 7 pm I had no energy to cook dinner, so we decided to try our newest neighborhood restaurant, a small Thai place three blocks away called Banana Blossom.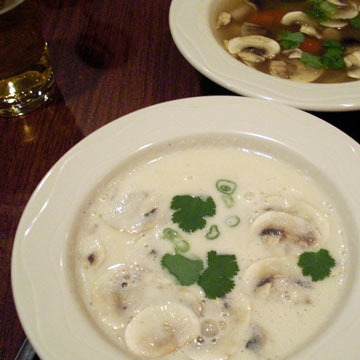 We tried two soups, Coconut and Lemongrass. Both were a bit on the salty side, but otherwise fresh and flavorful. Joanne ordered Pad Thai and I got the House Special Fried Rice. Both very good.
We ended with splitting an order of Chocolate Banana Spring Rolls, six crispy (not greasy) little nuggets filled with banana slices and chocolate, served with a dollop of whipped cream.
The prices were a little higher than we expected but not bad. Soup was $4, entrees $11-12, dessert $6.
We'll definitely be going back. Lots more stuff on the menu to try.
Top of page |