Lively conversations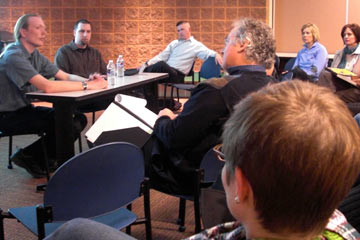 Last week we started describing them as lively, today we actually had lively conversations.
The first Web Work Web Wisdom event of the semester started out with two informative talks on designing for mobile devices.
Brad Colbow, designer and art director for Sideways, Inc. shared advice from his perspective. The teacher in me was thrilled Brad's first point was "Learn HTML," exactly what we teach in our Web Publishing I class.
Brad was followed by Randy Beiter, formerly Chief Software Engineer at Sideways and now owner of Plugh Studios Ltd. Randy cautioned us to be sure that we design things that use and benefit from the capabilities of a mobile device (smartphone or tablet), not just do mobile because its "hot."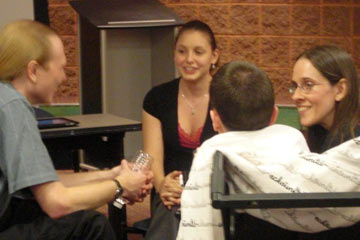 When Randy was buzzed out by our 20-minute timer we threw things open to the audience and they responded with questions, a lot of questions, as we'd hoped.
A half-hour later the "official" presentation ended and the audience and both speakers gathered into clusters of like-minded folks who stayed for another hour.
Lively conversations indeed.
Top of page |