New kid on the block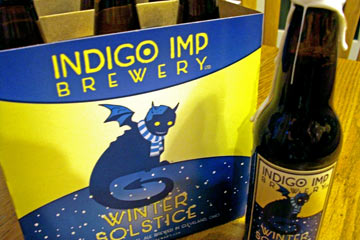 I'm a big fan of Great Lakes Brewing, my neighborhood craft brewer. They not only make excellent beer, they are leaders in sustainable business practices.
However, I'm always mystified by the cult-like excitement over their Christmas Ale. It sells out at many stores every year, but I can take it or leave it.
Still, I felt a bit disloyal when I picked up a six-pace of Indigo Imp Winter Solstice at my corner store. But since Indigo Imp is a local micro-brewery only a few miles away I'm still supporting a local business. Love the graphics too.
When I tasted the beer, described as "A deep amber, full bodied ale, brewed with four different malts, Cascade hops and just enough orange peel and cinnamon to be Impishly delicious" I was glad I'd tried something different. The flavor is deeper and more interesting than the Great Lakes version. I can't imagine drinking more than a bottle or two of either in a day, but I'd pick the Imp first.
Top of page |