Flags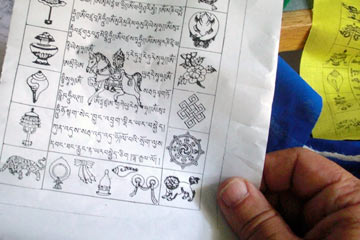 The Buddhist prayer flags came with instruction sheets that weren't all that helpful. Fortunately TheHungerSite.com where I ordered them explains:
The snapping of Prayer Flags in the wind evokes the sound of hooves of the Windhorse (Lung-Tha) galloping in the sky, riding the breezes and carrying prayers to the universe to benefit all sentient beings.

Each set of flags was hand-made and blessed by Tibetan nuns. Handmade in and fair-trade imported from Dolma Ling Nunnery in Dharmasala, India.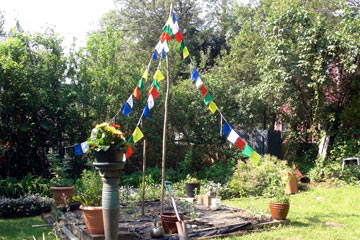 I'm using them mostly to decorate my backyard garden, but if they bring a little cosmic goodness to the world, I'm OK with that too. And if at the same time they frighten away critters that might eat the plants, better yet.
Top of page |