Bakery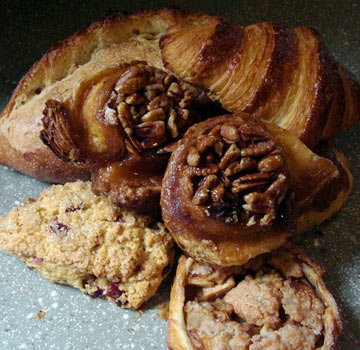 Here's mouth-watering evidence that you can do good and enjoy it. Last year I contributed $25 to a local college radio station, WCSB-FM, during its annual Radiothon. As a premium I got a $20 gift certificate to Blackbird Bakery in Lakewood.
Today I cashed in my gift certificate for: pecan sticky buns, a cranberry scone, croissant, apple galette, and a French batard.
So far I've only eaten the scone (delicious), and sampled the bread (very good). The sticky buns are on the menu for breakfast tomorrow. I'm liking this place.
But back to the radiothon for a minute. If you like music that's not the mass-market stuff, try moving to the bottom of your FM dial, between 88 and 92 khz. That's where you'll find all sorts of music played by people who love it.
My favorite stations for blues and reggae are WCSB (89.3) and WRUW (91.1). I get my folk-music fix from WKSU (89.7) on weekends, and news and talk from WCPN (90.3). The latter two are public radio stations, so you're probably familiar with their regular week long fund-raising drives. The college stations do it differently, usually a once-a-year fund drive that offers premiums from smaller, hipper businesses. Like Blackbird Bakery.
So support your local independent radio stations, try local businesses, and enjoy.
Top of page |