They love me!

It was exciting to see that over the past few weeks the daily total of visitors to this site has been increasing at really healthy rate. Since not too long ago I was whining that nobody loved me, you'd think I'd be ecstatic.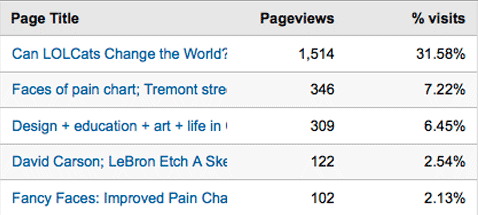 I was, until I dug deeper via Google Analytics into exactly what was bringing all these visitors to my site. The always-popular "pain chart" has been kicked deep into the basement by "LOLCats."
OK, not bad. Back in July I wrote an interesting, witty article about author Clay Shirky's theory that cute cat pictures can lead to a better world. An odd idea at first, but worth considering. And to think that people were finally getting it, via my website!
Not quite.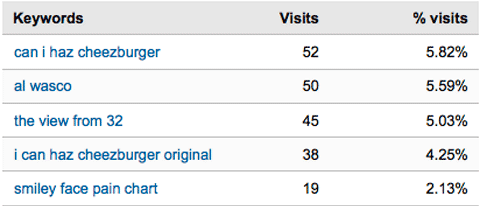 Turns out that people have been coming to my site primarily via a Googe Image search.
Looking for a picture that matches "can i haz cheezburger."
So much for changing the world.
Top of page |