SEPTEMBER 25, 2009
The Bridge Project
One of Cleveland's iconic bridges is the Detroit-Superior, a long span of lovely concrete arches over the Cuyahoga River. It was built with two levels, for cars on the top and trolleys on the lower level. In the late 40s the trolleys were replaced with buses and the lower level closed.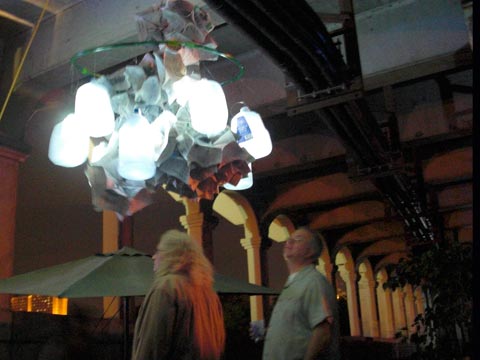 Yesterday it was reopened for the two-day Bridge Project presented by the Ingenuity Festival and others. What a great idea!
At 8:30 pm the subterranean bridge deck was jammed with people watching films, drinking beer and having a good time. Art installations by high school and college students as well as professionals were scattered here and there.
One favorite was a funky chandelier made of crumpled newspapers and plastic milk jugs. Might not be right for your living room, but it looked great under the bridge.
For all the interesting activities going on, there's no doubt that the main attraction was the bridge itself. It was spooky and glamorous at the same time. Spotlights cast dramatic shadows as you walked past.
Hard to keep from repeating "They sure don't build 'em like this anymore."
Looking down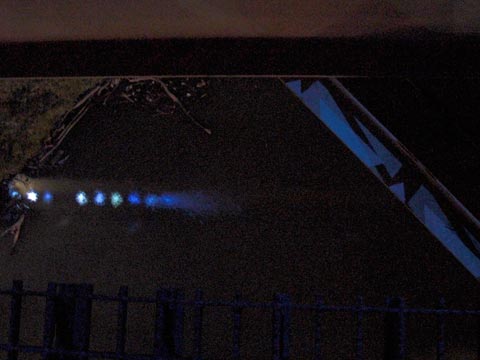 The center of the span across the river has a metal grid deck, meaning that you can see through to the Cuyahoga far below. Very cool.
In this picture the row of bluish-white spots are refliections of the bridge lights on the river's surface, more than a hundred feet down.
A bit further to the East we were above the "carousel" bridge that turns to make way for boats on the river.
Top | |