NOVEMBER 8, 2009
Light and dark
Light
The last day of the Mobile Art & Code symposium started great. Sunny, warm, lots of blue sky in Pittsburgh.
The morning workshop on using the Arduino microcontroller and software was fun, though a bit baffling at times. I hope this will be the jump-start I need to figure out how to make interactive art that doesn't rely on a keyboard and mouse.
Today I made an LED light up and blink. Not much, but at least a start.
Dark
Most of the drive home was pleasant. The weather was great and for the most part traffic was light. Still, as I got close to home I began to get that sick feeling in the pit of my stomach. Yesterday, via a chain of events that started with a Facebook message that mentioned a fire on West 32nd, I'd learned of a tragedy two doors from my house.
Early Saturday morning the boarding house burned, killing four people inside. Next door, a house owned by good friends was significantly damaged.
In PItsburgh it had taken me a half dozen phone calls to get this much information. Talking with people I love I was utterly powerless to do anything more than say a few sympathetic words.
The closer I got to my block the slower I drove. Wasn't sure how bad things would look.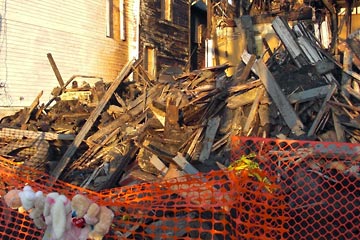 Pretty bad. The only good part was that neighbors were standing around talking, giving me a chance to connect with them. Everyone was still visibly shaken, sharing stories of early-morning knocks on their doors that alerted them to the fire.
Word on the street is that the fire was deliberately set, that a black pickup truck was parked nearby and drove away as the fire started. The pile of burnt lumber is now the scene of a multiple-homicide investigation.
A few stuffed animals and a hand-written note make a simple memorial on the temporary fence.
Top | |