AUGUST 17, 2009
Cooking with Julia
Monday night in Cleveland means $5 movies at the Cedar Lee (and other Cleveland Cinemas). We decided on Julie & Julia, parallel stories of Julia Child the TV chef and Julie somebody-or-other, a young blogger who spends a year cooking every recipe in Child's book Mastering The Art of French Cooking
while blogging about it. Definitely chick-flick territory.
Was it worth $5? Sure. Meryl Streep—as everyone seems to agree—is terrific, as is Stanley Tucci as her husband. Unfortunately Amy Adams and Chris Messina as their modern counterparts are both just cute as buttons, with about the same emotional depth. Watch this clip called The Meltdown which shows them in crisis. If its cuteness doesn't make you gag you'll survive the film. If it makes you smile, you'll probably enjoy it.
The official Julie & Julia trailer gives a more complete picture. It's a Hollywood summer movie, great if you like that sort of thing.
Cooking with zucchini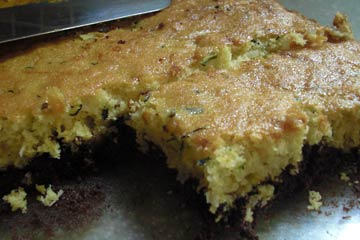 Yep, still more zucchini from our one productive plant. My latest experiment was Black-bottom Zucchini Bars and I'm declaring them a success.
Tasty, moist, and you don't feel too bad about eating them because, hey, they're nutritious! Try to ignore the fact that they contain as much sugar as grated zucchini.
You divide the batter in half and mix cocoa with one to create the bottom layer. I added about a half cup of shredded coconut to the other, and next time will put chopped nuts in with the chocolate part. Extra yumminess.
Other zucchini experiments
I really liked the corn-zucchini bake described last month, and I tried a recipe for zucchini soup from the Nashua, New Hampshire newspaper that was very tasty. You may want to visit their website for a lot more recipes that sound good.
Here's the soup I made:
Zucchini Soup
1 large onion, chopped
1 clove garlic, minced
2 Tablespoons butter
2 cups chicken broth
¼ cup white wine
4 cups zucchini, diced
½ teaspoon salt
1/8 teaspoon celery salt
½ teaspoon pepper
Sour cream

In a saucepan, cook onion and garlic in butter until softened. Add broth, wine, zucchini, celery salt, salt and pepper and cook until zucchini is tender, about 15-20 minutes. Let cool, then process in batches in a blender until smooth. Heat soup before serving and serve with a dollop of sour cream. Serves 4-6. This is a great soup to make ahead and freeze.
Top | |