SEPTEMBER 4, 2009
Mission accomplished
Things to do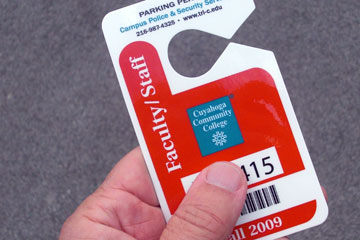 This was a day of appointments and errands, some of which went well, one of which failed miserably. But at least I got my prized Faculty/Staff parking hangtag.
For a mere $60 a semester I get to park closer to the building—if the campus police decide to enforce the regulations to keep the students out of the Faculty area.
I'm sure they'll be giving out tickets on Tuesday, the first day parking rules will be enforced. But in the following weeks I'll bet that the officers will be nowhere to be found.
Reward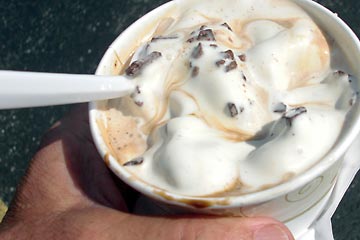 I'll admit, after trips to my mom's doctor (a disaster), the bank, and the Tri-C Business Office I felt I deserved a reward, and East Coast Custard had it.
Today it was a mocha Concrete with chocolate chips, something I've never tried before. Was it a better choice than the Turtle Sundae with pecans, chocolate and caramel syrup? Hard to say. I'll have to try that next.
Incidentally, if you've ever wondered why Americans are fatter than most Europeans, portion size is a big part of the answer. What you see in the photo is a Mini size. I'm guessing from what I usually see at the order window that most people get a Regular, Large or Jumbo.
This Mini is at least 8 oz. of frozen custard with mocha syrup and chocolate chips added. Based on the nutrition info at the East Coast Custard website, it's going to weigh in, so to speak, at around 500 calories. For the Mini. I'm not even going to guess about the Jumbo!
Top | |