OCTOBER 31, 2009
Day of the Dead parade
This afternoon we enjoyed a parade and art installation celebrating the Mexican holiday Dia de los Muertos, the Day of the Dead.
This lively celebration of life and death has been slow to catch on in the U.S., but at least some Clevelanders have embraced it.
The Cleveland celebration has taken place in different neighborhoods over the past five years. Today the colorful marchers strolled down Detroit Avenue in the Gordon Square Arts District, West 65th to West 58th.
Along with the parade there were memorial altars to those who have died, festooned with flowers and decorated with food, drink and objects loved by the deceased. The ones we saw here were a powerful combination of art installation and remembrance. More sophisticated than those we saw on a visit to Mexico years ago, but certainly true to the tradition.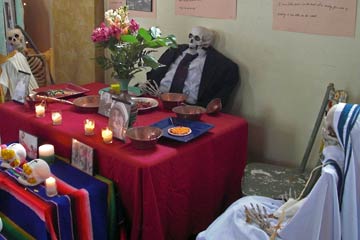 The indoor installations were surrounded by flickering candles, and the smell of incense filled the former Romanian Orthodox church. The setting seemed altogether appropriate for the elaborate memorial altars.
One of my favorites featured Gandhi, Martin Luther King, Jr., and Mother Theresa sitting down to share a simple meal.
Top | |