AUGUST 3, 2009
Painful memories
We ended up in Albany, New York just after lunch time. There was a parking space right in front of the New York State Museum, so we stopped to take a stroll around the capital plaza. I had a pressing need to use the bathroom so ducked into the museum, which we had no plans to visit.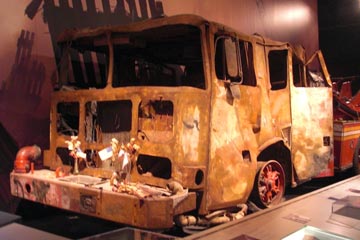 On the way out I detoured through one of the display galleries just to see what we'd be missing. After a couple of minutes looking at the 9/11 exhibit I knew Joanne would want to see it too. The video interview of the sole surviving firefighter who'd ridden in this engine nearly brought me to tears. Several times. He was in such visible emotional pain, even after a year, that it was hard to watch.
Me too. After eight years I didn't expect to be as affected by this collection of burned and twisted steel, but the memories of that day aren't buried as deep as I thought. We ended up spending more than an hour in this one gallery, and left feeling that it alone was worth the trip to Albany.
More about this: September 11, 2009.
Top | |