NOVEMBER 21, 2009
Safe, healthy and green
If you're trying to buy things—household products, toys, food—that are all three of the above, good luck. Balancing the health, environmental and social performance of both individual products and the companies that provide them is a daunting task.

Books like The Rough Guide to Shopping with a Conscience
do a good job of laying out the issues and concerns. If you're not yet convinced that you should think about your shopping habits I'd recommend you at least browse this book. It's less useful, however, when it comes to picking specific products. That job almost certainly should be handled by a website which can be updated constantly as products and research change.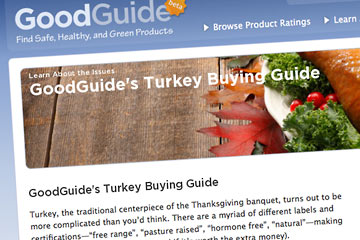 Just in time for the holidays, help has arrived in the form of GoodGuide, a site that rates the environmental, social, and health performance of products and companies.
I like their tips on picking the right turkey, although the top-rated Diestel Farms brand isn't one I've seen in Cleveland stores.
I do plan to follow their other advice (below), meaning that I'll go to the West Side Market on Wednesday for an Amish-raised fresh turkey.
I'll admit that I'll also cringe at the price, triple that of a typical grocery-store turkey. No one said it would be cheap or easy to change the world.
---
GoodGuide's Top 5 Tips to Picking the Best Turkey
If you can afford it, choose a fresh, heritage turkey raised close to your home.
Choose fresh over frozen
Choose "organic" over "natural."
Choose "Pasture raised" over "Free range."
Avoid turkeys that have been raised with antibiotics.
Top | |