AUGUST 18, 2009

Walk and eat
Not necessarily at the same time. Today Jared and I walked along Train Avenue for a while, parallel to the tracks and concrete wall with its extensive graffiti. You can see more pictures of the area from an earlier visit. This picture was taken looking down from the West 25th Street bridge. The guy in the orange shirt couldn't have picked a better spot—or shirt.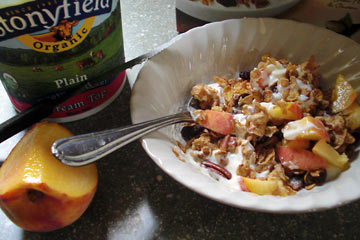 We stopped at Dave's Supermarket on the way home where I picked up yogurt, grapefruit juice and a hunk of fresh mozzarella (for a Caprese salad tomorrow).
For lunch, what could be better than a juicy, flavorful peach from Fresh Fork Market mixed with Stonyfield plain yogurt and a little granola?
Ah, summer.
Top | |