NOVEMBER 7, 2009
Loud and strange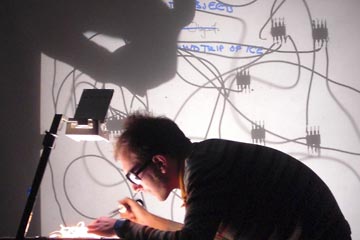 But good.
After a full day of lectures that left me both buzzed and exhausted from an onslaught of new ideas, the Mobile Art & Code activity moved to a small club/restaurant called Brillobox, not far from the Carnegie Mellon campus.
How to describe the performance by Loud Objects? Imagine this:
Onstage are two of the geekiest kids from high school (now older) trading places at an overhead projector, soldering a maze of wires and gizmos to make scratchy electronic noise. Add a strange story about otters that the guys take turns reciting a line or two at a time. Continue with more wires and soldering, changing the noise constantly. Continue with more lines from the story. About a half hour goes by, then it all stops. Applause.
Yes, it was strange, but I really enjoyed this celebration of DIY music-making. The otters? Seemed arbitrary but added a bit of story flow to the otherwise random-sounding performance.
If your kid likes electronics and needs a science-fair project, show him/her the video. Could spark a whole new career.
Top | |