OCTOBER 17, 2009
Scams & scammers
As sure as the leaves change colors, Autumn brings us ads for the Amish Heat Surge Mantle ("It's not just a fireplace, it's a fine piece of furniture").
I wrote about the miraculous mantle last February. Turns out that although the heater is just your basic electric heater, the box—I meant mantle—actually is built by Holmes County Amish.
There's enough interest in the dang thing that it recently took over #1 position on the chart that shows what visitors to my site are searching for.
Pretty impressive, since otherwise the list has been completely dominated all year by variations of "smiley face pain chart."
Design scam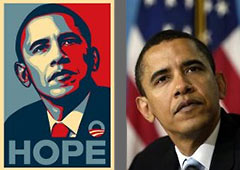 I've talked about the debate over the Obama "HOPE" campaign poster designed by Shepard Fairey on numerous occasions, starting on January 22, 2009. In the end I decided that he was "treading a very thin line" between appropriation and plagiarism in using a photo by Mannie Garcia as the basis for his work.
A recent article in the New York Times is stirring the pot again. It talks about a recent admission by Fairey that he'd been deliberately deceptive when he defended his work on the portrait. Although he still says that what he did with Garcia's photo is protected "fair use," his false statements about which photo he used undermine his right to the moral high road.
Top | |