NOVEMBER 14, 2009
Back home
It's been a somber week in the neighborhood, but today —a sunny, warm Saturday— redeemed it.
I walked to the West Side Market as usual and enjoyed the shopping and the people. My favorite outside fruit & vegetable vendors were gone, maybe for good. I got mostly organic veggies from The Basketeria instead.
Inside, though, I got bread from Nancy, chatted with Ed and Nina at Meister's, and returned to Mel's for lunch meat after a couple weeks at another stand. Mel's is better, I decided. Not quite as good as Walker's under its former owners, but close.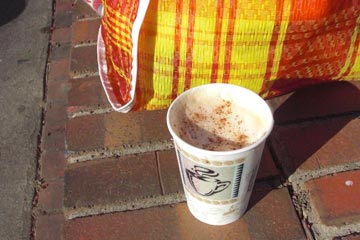 On the way out I stopped at City Roast for a cappuccino and went across the street to Market Square park to enjoy it, soaking up the sun.
The outside tables were packed at Great Lakes Brewing, and I was far from alone sitting in the park.
Good to be back home.
Top | |