OCTOBER 14, 2009
Neil Young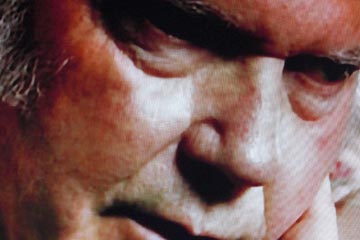 My break from prepping for a long day of classes tomorrow was watching the PBS American Masters show about Neil Young, Don't Be Denied.
I'd forgotten how much great music he's made in his career, dating back to his Buffalo Springfield days.
His intensity and insistence on "following the music" wherever it led him came across clearly in his comments, often tinged with not regret, but sadness. He told of the "collateral damage" to friends, family and others who were left to pick up the pieces with no warning when the music led him elsewhere.
His collaboration at one point with Akron's punk-art band Devo was fun to watch (see for yourself). While other performers felt threatened by the new style, Young jumped in with both feet.
Interesting too was the story told by Devo's Mark Mothersbaugh that they'd developed the advertising slogan "Rust Never Sleeps" for Rustoleum products, owned by a Cleveland company. Young picked up the line during a recording session with Devo and used it as a title for his next album and eventually for a live concert film with Crazy Horse.
So the Cleveland-Akron connection was an added attraction, the music great, and Young's dedication to his art and his craft impressive.
Top | |