SEPTEMBER 13, 2009
Sunny, with kites, drums and people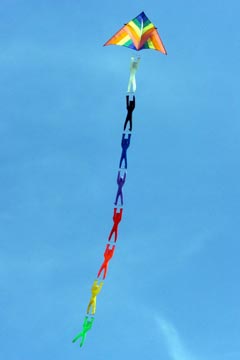 This kite fluttering in the blue sky today could be the symbol of Cleveland's Edgewater Park. People of all colors were enjoying the sunshine, the kites, and more.
It was a great day for kites, and especially for today's annual kite festival sponsored by the Ohio Society for the Elevation of Kites. Kites of all sizes, shapes and colors were being flown by people nearly as diverse as the kites.
While this was happening aloft, on the ground the drum circle I'd heard a couple of weeks ago was back in action with even more drums and drummers. They attracted a small crowd near the beach, where a few swimmers and more sunbathers took advantage of the beautiful day.
Add to this bikers, runners, strollers, people fishing off the rocks and others playing soccer on the grass and you have a beautiful September Sunday in the park.
Kite ballet
A group from Detroit showed off slick synchronized kite-flying as part of the day's events. We got to the park just in time to see their final routine.
Top | |