AUGUST 5, 2009
It's the American way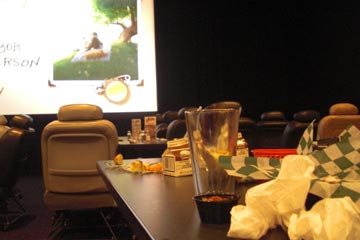 Hard to imagine doing this in another country. We parked outside of a sprawling single-story building in a small strip mall. Through the glass doors of Chunky's movie pub you can get beer, burgers, and a first-run movie at the same time.
The interior is strange, a room filled with long tables surrounded by chairs that are actually Lincoln Continental car seats complete with leather upholstery and headrests.
The worst thing about this is I have to admit I enjoyed my beer, veggie burger and waffle fries accompanied by the Pixar film "Up."
Like it or not, I'm an American.
Top | |