AUGUST 22, 2009
Class on Monday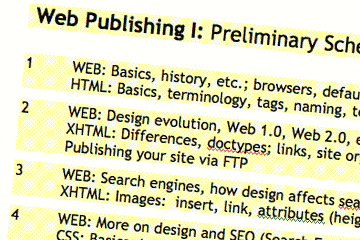 My first class of the semester, Web Publishing I, is Monday at 3 p.m. When I walk into Room C115a at Cuyahoga Community College Western Campus it will be the first time I've been at the front of a classroom in fifteen months! I'm looking forward to it.
All afternoon and into this evening I've been updating and adding to my class syllabus. I'm using Google Docs to post it online so others can comment on what I've developed so far.
If you're a web professional (or amateur, even) I'd love to get your feedback. There's an email link at the top of the document that you'll find here.
What's your media diet?
Part of my sabbatical research has been asking students and teachers how much media (TV, books, video games, etc.) they consume in an average week. The answers show a dramatic difference between age groups. I'm giving the survey to all my students this semester, and I'd be very interested in what you have to say as well.
The simple online survey has only two questions and will take you about a minute to complete. What's your media diet? Click to take survey
Top | |