SEPTEMBER 3, 2009
It's ChaCha time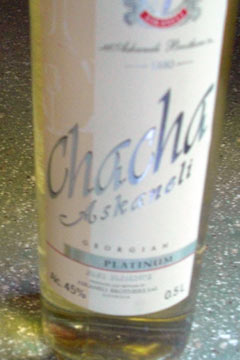 One of the many gifts we received from Davit, our guest from the country of Georgia, is this bottle of Chacha, Georgian vodka. A few sips of this fiery 90-proof liquid will get you well on your way to doing the cha-cha.
I was kind of relieved that Georgians don't appear to share the Russian custom of finishing the bottle of vodka once you've opened it. I had work the next day, and after half a bottle of Chacha I might not have been able to crawl out of bed.
I was also surprised that Chacha is made from grapes. I had the idea that vodka was made from potatoes, but not so. Here's a definition from WiseGeek:
Vodka is a distilled spirit with a high alcohol content that can be produced from a number of different materials and possess different characteristics depending on the creator. Most vodka produced these days is made from a grain, though some is still made from potatoes. The exact history of vodka is unknown, though it most likely originated somewhere in the region of Poland or Russia between the 14th and 16th centuries.
Top | |