SEPTEMBER 8, 2009
The Georgians depart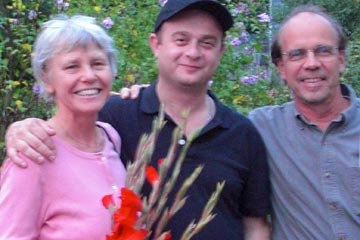 Tonight we went to a going-away party for a group of visitors from Georgia (the country). The men and women were part of a professional educational program sponsored by the Council of International Programs (CIP), formerly Cleveland International Program.
As we've done many times before, we hosted one of the visitors, Davit Ashkenazy. After an short ceremony where we received a thank you certificate and flowers, a huge round of picture-taking commenced. Here's our contribution.
Right before the picture-taking, while we were still gathered in the garage to avoid sporadic rain showers outside, a couple of the Georgians sang a folk song that to my ear sounds more Gregorian chant than Woodie Guthrie.
I asked the group's translator to explain the lyrics, but the best I could get was that it was about love. The sound was oddly mesmerizing, partly because of the low drone of the man's voice which reminded me of a Buddhist-style chant.
Top | |