OCTOBER 10, 2009
Umm...will this be on the test?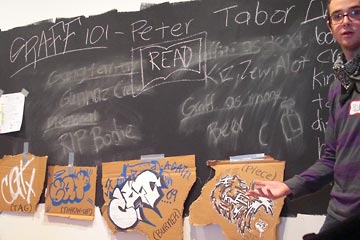 Like last Saturday, I was in class again today. As a student, though, not a teacher. The class, part of SPACES Plum Academy, was Graffiti 101.
Here Peter showed us the difference between a tag, a throw-up, burner, and piece. He also named the hierarchy of graffiti writers, from the dismissive toy to the self-explanatory king. As with most cultures, the language is as colorful as the work itself.
---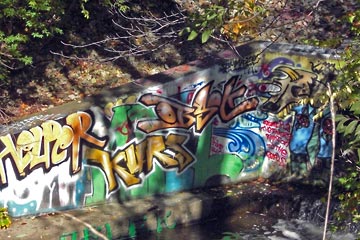 After our classroom orientation, our little group of eight—including a business consultant and a fifth grade teacher, among others—took the Rapid to University Circle, checking out several graffiti hot spots along the way.
We walked from the station to Ambler Park, scrambling along a muddy trail through the woods. As we got near our destination we saw a colorful patch of graffiti among the trees at the bottom of the hill.
---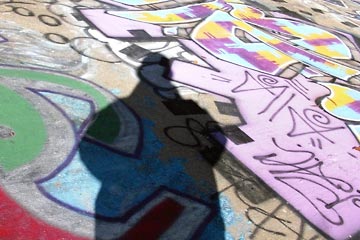 A little further up the hill and through another patch of trees we arrived at a big sloping slab of concrete, a dam that provides the perfect canvas for graffiti.
---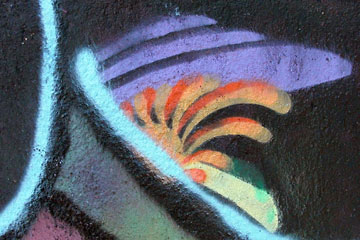 To me, the artistry of graffiti writers using spray paint rivals that done with more traditional media, as this detail from one of the pieces shows. It looks like this was created using a combination of stencils and freehand techniques.
---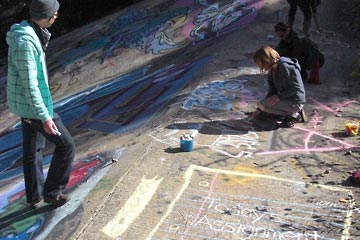 After admiring the real stuff, we tried our own. Course ours, done with kid's sidewalk chalk, was pretty lame. But, hey, you gotta start somewhere.
More graffiti
Stencils & signs—July 7, 2009
Graffiti near Train Avenue—May 21, 2009
Shadows and spray paint—March 1, 2008
City Expressionz—August 25, 2007
Greek graffiti—July 8, 2007

Top | |