SEPTEMBER 26, 2009
Electric Junkyard Gamelan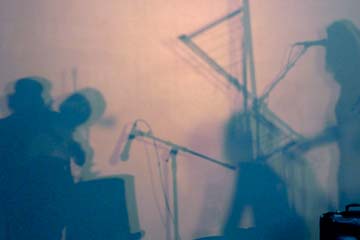 Years ago we visited a museum in Amsterdam where Gamelan music played by a Javanese group resonated through the building. It was beautiful, thrilling and unforgettable.
Today I had a similar experience under the arches of the Detroit-Superior Bridge on Day Two of The Bridge Project. The music was provided by Electric Junkyard Gamelan from New York City.
This picture taken from behind the stage shows the band in shadows, fitting right in with the musical heritage of Gamelan. According to Wikipedia, in Java, shadow puppet theater performances are traditionally accompanied by gamelan.
Electric Junkyard Gamelan, led by Terry Dame, updates the tradition with invented instruments and rhythms borrowed from other cultures.
This is the kind of band I want to play in!
---
More photos and video from The Bridge Project, Day One.
More rhythm with Samba Joia
Top | |