SEPTEMBER 15, 2009
Tuesday
Veggies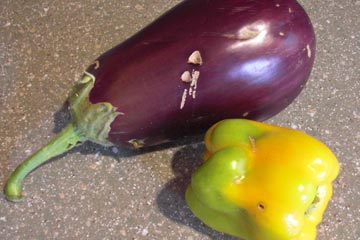 Sun was shining warmly in the garden as I walked out with my morning coffee. I decided to pick the eggplant before critters got to it, even though I had hoped it would grow larger. When I looked at it in my hand I could see tooth (claw?) marks on it already. The yellow pepper was already starting to look a bit wrinkled even though it wasn't uniformly yellow.
The eggplant is destined to become baba ganoosh, while some of the pepper found its way into tonight's supper (see below).
Questions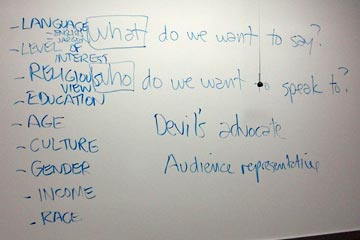 The Media Design class is wrestling with how to present issues they care about, religion and over-use of medication. I've challenged them to make a strong statement to a specific audience. On the whiteboard we identified some of the things they need to consider.
This week they're still researching their topics. Next week we'll start to focus on how to make their case using one or more media types. I'm very happy with how enthusiastically they've taken on this challenge that's far beyond a simple exercise in designing a poster or website.
Supper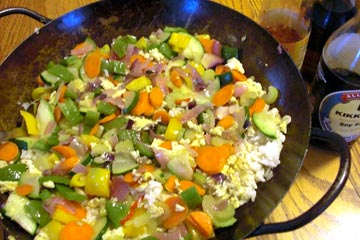 Neither Joanne nor I are vegetarians, but as I was thinking about what to make for supper tonight I realized that I had no particular desire for meat.
I planned fried rice with vegetables, and considered adding chicken breast strips that I bought the other day. In the past I'd have automatically pulled the package from the freezer without a second thought.
When Joanne got home I asked if she'd like chicken with the rice and veggies and she said no. The chicken stayed in the freezer. I think this is a good thing although I'm not completely sure why. I know all the arguments in favor of a vegetable/fruit diet, I guess I'm just reluctant to become a True Believer.
Top | |