AUGUST 30, 2009
Rituals
Jesus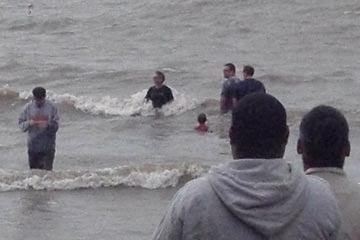 If you're thinking that these folks aren't dressed for a swim you're right. It was chilly and blustery this afternoon at Edgewater Park, but that didn't deter a couple dozen people from being baptized in the lake's 72 degree water.
Anytime you see a large multi-generational group gathered in the park with a tent, chairs and a sound system it's likely to be religious. Family reunions usually don't have the big sound system.
They had me fooled at first: no obvious banners or religious symbols. When I heard applause from the group on the shore watching what was going on the in water I figured baptism was the most likely possibility.
After the newly-baptized were bundled in blankets and the action had shifted to the barbecue grills I was offered free food as I ran past. No thanks—I'm pretty sure we'd have parted ways the first time Jesus was mentioned. The group was on the low-key side, though. Outside of "Jesus is #1"-branded cornhole boards their affiliation wasn't visible.
Drums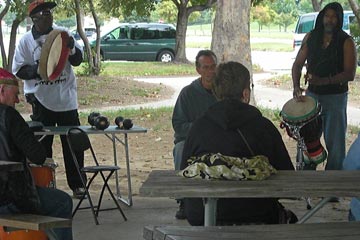 Much more to my liking was the drum circle that kept a beat going from the time I got out of my car until my last lap around the track about an hour later.
Not quite as good as my previous encounters with Samba Joia and the Museum of Art's steel drum band, but still a great sound.
Sun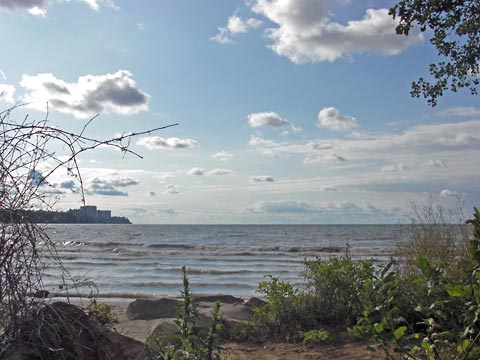 It didn't happen until I'd finished my run, and it only lasted about twenty minutes, but still...the clouds lifted and the sun shone brightly.
Its warmth was welcome on a day that felt much more like late autumn than the next-to-last day of summer.
Thanks, Mr. Sun, for your better-late-than-never appearance.
Carbs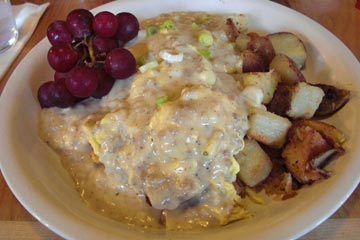 With no trip to my mom's planned for lunch today we were able to have brunch at Lucky's in Tremont, always a treat. As usual, it was delicious and somewhat decadent.
After lots of vegetarian dishes this past week I couldn't avoid the siren call of biscuits, scrambled eggs and sausage gravy. These were no ordinary biscuits—they were cheddar scallion, crunchy on the outside, tender on the inside. And of course home fries—you gotta have home fries.
I've learned, especially at Lucky's, to stop eating a bit before the plate is empty and my stomach yells "Uncle"—that way I have a reasonable size portion to take home and I don't feel overstuffed for the rest of the day. So tomorrow's breakfast will be tasty reminder of today's.
Top | |