NOVEMBER 17, 2009
Ghost hunter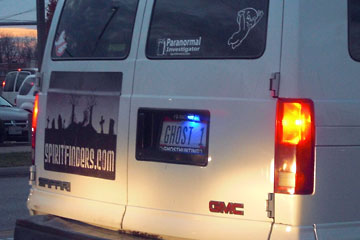 Not sure whether "Ghost 1", the GMC van waiting for the light at Pearl and York today is supposed to evoke a laugh or impress me with its professionalism.
The sticker on the window identifies it as a "Paranormal Investigator" vehicle. And Casper seems to give it his ghostly seal of approval. The blue light over the license plate adds a touch of class.
The Spiritfinders.com website screams "don't take me seriously", although it's hard to hear over the spooky music that plays...forever. Since polls show that about a third of Americans believe in ghosts, I guess there's a market for this sort of BS.
Now that's a scary thought.
Top | |