AUGUST 2, 2009
Cleveland to Utica
Around noon we pulled out of our driveway and headed east towards New Hampshire. The plan was to make the drive in a leisurely two days: to Utica, New York today and on to Brookline, NH on Monday. On the way back we'll do it in single 12-hour slog.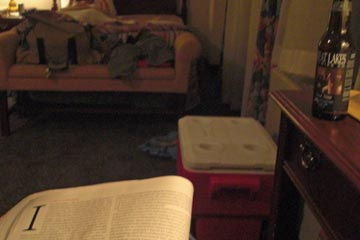 A friend recommended Utica as a midway stopping point. I did my usual internet search to find someplace interesting to stay and came up with Hotel Utica, a grand old hotel in the center of town that was recently restored.
The room was huge, although a bit threadbare. But the bathroom was immaculate, and we were just staying the night.
After a shower, I pulled a Great Lakes out of the cooler, kicked back in the chair, and read for a while before bed. All in all, a good place to stay, especially for the $79 rate I got at Hotels.com.
Top | |