OCTOBER 15, 2009
Take-out today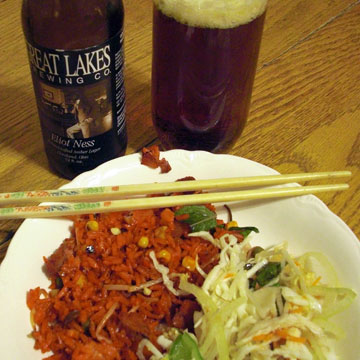 Thursday is my longest day, with classes starting at noon and ending at 8:30. I'm usually in no shape to cook, and there were no leftovers in the fridge. What to do?
Through the miracle of the internet I was able to pull up the menu of Phnom Penh, a nearby Cambodian restaurant. A short detour down Lorain and onto West 25th resulted in were plate of Asian Basil Fried Rice and Salad Phnom Penh, a tasty combination.
A Great Lakes Eliot Ness did a nice job of washing it down.
Top | |