NOVEMBER 28, 2009
Until next year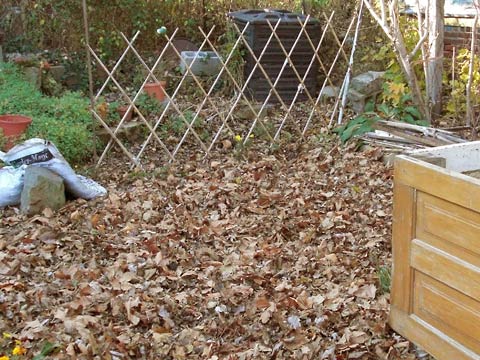 Back in June the garden was full of life and potential. Now it's getting ready for a winter rest, covered with a blanket of leaves.
We've had a stretch of warm November days most of the month, so I've delayed pulling out the peppers and remaining tomatoes, trying to get every last fruit. Today I decided it was time to declare the season over.
It was a decent year for the peppers and tomatoes, although I'd hoped for more of the Beefsteaks. Next year I'll plant a couple of varieties instead of putting all my eggs in a single basket.
The peppers were prolific but as with last year we ate most of them green. They were so slow to turn colors—yellow, orange and red—that some we starting to rot already. I suppose this means they need more sun, but I'm not sure if there's anywhere I can put them that's sunnier.
Ah well, until Spring comes 'round I won't be visiting back here nearly as often.
Top | |