SEPTEMBER 24, 2009
Best vegetable soup ever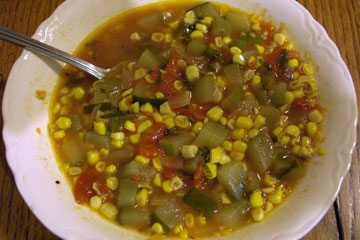 This recipe was in the Plain Dealer a couple of days ago, and I made it using tomatoes, zucchini and basil from our garden, and corn from the local farmer's market. It was great!
I had two bowls for supper yesterday, and two more when I came home from school at 9 tonight. I'd eat two more tomorrow but there's none left.
After trying a recipe for Baked Zucchini that includes corn and tomato, and making Zucchini and Sweet Corn Pancakes with fresh tomato salsa, I've come to the conclusion that you can't go wrong with this combination of ingredients. Throw in lots of onion and fresh basil, a little garlic and it's heavenly in whatever form you make it.
Corn, Tomato and Zucchini Soup With Basil  (4 to 6 servings)
4 cups chicken or vegetable stock (I sauteed onion and celery in olive oil, added several cups of water and simmered for three hours with the corncobs and leftover raw vegetable scraps we've been saving in the freezer)

4 ears fresh corn (I used 3)

2 tablespoons olive oil

1 medium onion, minced

2 cups cored, peeled and chopped tomatoes
(to quickly peel tomatoes, submerge in boiling water until skin softens)

2 small (or 1 medium) zucchini, about ½ pound, diced

1 tablespoon minced garlic

Salt and pepper, to taste

½ cup minced fresh basil leaves (more wouldn't hurt)

1 teaspoon balsamic vinegar
Enrich the broth: Heat stock in a large, deep saucepan. Cut corn kernels from cobs, and set aside. Add the cobs to the saucepan (break in half if they don't fit whole). Simmer while preparing other vegetables.
Cook the onions: Place the oil in a large, deep saucepan and turn the heat to medium. One minute later, add the onion, and cook, stirring, until onion begins to soften, about 5 minutes.
Saute remaining vegetables: Add the tomatoes, zucchini, garlic, salt and pepper. Cook for about 10 minutes, stirring occasionally.
Simmer the soup: Remove the corn cobs from the stock, and add stock to the veggies. Stir in corn kernels and basil, cooking for about 5 more minutes.
Presentation: Add the vinegar. Taste and adjust seasonings as necessary.
Source:
Adapted recipe from Kim Novak Proctor, Cleveland Heights, from a recipe in "How to Cook Everything" (John Wiley & Sons) by Mark Bittman.
Top | |