SEPTEMBER 1, 2009
Yum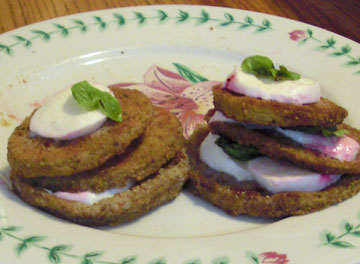 About once a week I stop at the Side Show stand at the West Side Market, not so much to buy something, but to get ideas on what to make at home.
Here are the results of my latest petty theft of their great side dishes: Eggplant Stacks.
I picked one of my two ripe eggplants in the garden, peeled and sliced it, then oven-fried the slices in butter after breading them with Italian-seasoned breadcrumbs.
The rest was super-easy: slice fresh mozzarella (from Meister's), layer with eggplant and fresh basil from the garden, serve. The bright magenta you see on the right is from a few slices of a home-grown beet steamed then added in to spice things up.
Top | |