Feel bad movie?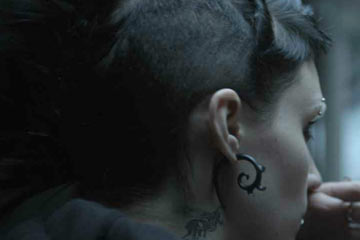 Intense, dark, and complex, The Girl With The Dragon Tattoo lives up to its billing as "The Feel Bad Movie of Christmas" if you like movies cheery and upbeat. But if you do, why would you pay to see this one, based on the equally dark and gruesome novel by Steig Larsson?
The film is a pretty accurate visualization of the book. Still, you may be disappointed when what's on screen doesn't live up to what you saw in your head.
In my case this was a good thing. I was afraid that I'd have to close my eyes during much of the time (I'm squeamish that way). Not so. Some films dwell on blood and gore with close-ups and slow-mo, but not here. The camera generally keeps its distance. The violent rape scene was mostly seen from across the room. It was intense but brief.
I was even more grateful that the multiple murders that form the background of the hunt for a killer of women were shown by quick flashes of photos from police reports. In the novel the murders are described in painful detail.
Not just any girl
The movie belongs to Lisbeth Salander, played by Rooney Mara. She's tough, competent, and smart. She's also isolated herself from society (with good reason), barely speaking most of the time. That's OK, though, we just want to see what she'll do next.
So despite the picture's billing, I left feeling pretty good. I'm looking forward to the next film in the trilogy although the second book was my least favorite. I want to see Lisbeth in action again.
Top of page |