Orchestra @ Public Square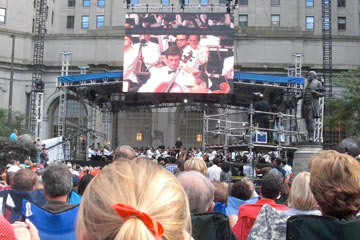 The Cleveland Orchestra usually performs a free concert downtown around the Fourth of July, but this year they changed it to a commemoration of September 11th.
Sitting in the shadow of the Terminal Tower and listening to one of the world's great orchestra along with thousands of other people is a great experience.
The Browns lost their home opener just before the concert started, and fans in orange and brown joined the rest of us in celebrating our one and only home team that is consistently at the top of its game. The Orchestra got a well-deserved standing ovation.
Some in the crowd are unlikely to ever hear the orchestra at Severance Hall—it may seem too expensive (though less than an NFL ticket) or too exclusive—but it's great to see Clevelanders of all ages, races and fashion preferences gathered together like this.
I love this town.
Top of page |