Ingenuity (in person)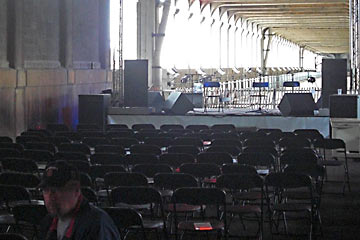 Last night I was too tired to go to IngenuityFest, so I made a point of studying the schedule for Saturday.
A panel discussion about new ways of looking at interactive design caught my eye, so I headed for the Detroit-Superior Bridge at 2 pm. The photo shows what greeted me when I finally located the correct stage.
I was probably 15 minutes late, partly because the two volunteers I asked didn't have any idea where the Ingenuity Stage was located. As you can see, there was no one on stage, no one in the audience, and no sign explaining what was going on.
I assume the talk was cancelled due to lack of interest, but this wasn't a good start to my visit.
Sit on it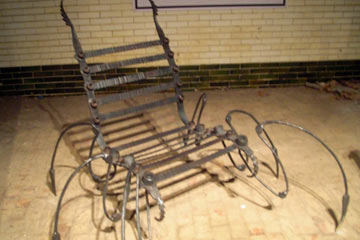 One of the more interesting "art" exhibits was a collection of chairs made from assorted surplus machinery and parts.
In addition to their inventive design and use of materials, some of the chairs were pretty comfortable. This "bug" design was bouncy and fun to sit in.
The thrill is gone?
Overall, though, I have to say I'm losing enthusiasm about Ingenuity's use of the lower level of the bridge as a venue.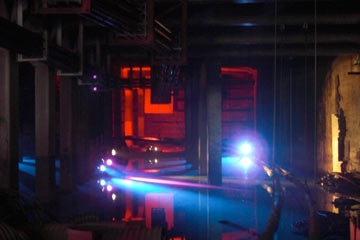 The setting itself is impressive, both as it arches over the Cuyahoga River and in its catacomb-like chambers at the east and west ends.
When used for performances or simply lit dramatically as in this picture, the bridge is the star.
The problem is that you don't always want the bridge getting the attention. Its mammoth concrete pillars and gloomy chambers dwarf much of what's on display. Its acoustics are terrible, with sound echoing everywhere and sounds from one area bleeding into the next.
I want to love Ingenuity. It's the kind of inventive, exciting event that Cleveland needs. And at first I thought the bridge location was a great one. Now, though, I find myself wishing they'd go back to the earlier approach of taking over several blocks in a different part of the city each year.
The bridge, for all of its gloomy wonders, may be keeping Ingenuity from achieving its potential.
Top of page |