Harvey Pekar memorial
Harvey's wife Joyce Brabner explains why an impressive statue of Harvey is a bad idea:
"What this is all about is the difference between celebrity and celebrating."
But a desk at the Cleveland Heights Library is a good one.
I agree.
This plan for a memorial to Harvey, a desk filled with paper and pencils and a chalkboard and chalk to encourage people to draw their own stories is the perfect way to honor his memory and his contribution to Cleveland.
Good news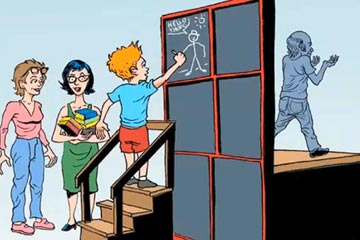 The project just got funded via Kickstarter, the website where you can help launch all sorts of creative projects (some by people just like you) that really need a little cash to become a reality.
Today I got an email update that Faber-Castell has agreed to keep the desk's drawers filled with pencils, sharpeners and erasers. That, plus the fact that the contributions have gone slightly over the $30,000 need to create the memorial, is good news.
Bad news
The latest project update says that apparently some people have withdrawn their pledges after seeing that the project (slightly) exceeded its 30k goal. C'mon folks, that's really petty. Things like this often cost more than planned, and Joyce has said that any surplus money will be donated to the library to buy more graphic novels for their collection. Your contribution is still needed.
I tossed in my $20 after the goal had been reached because I want to support the project. If you want to see Harvey's memory endure in this form, or simply want to encourage future artists and writers, visit the Harvey Pekar Library Statue website.
Top of page |