Stars and bones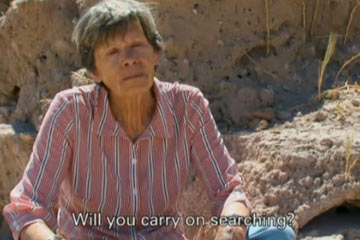 The movie Nostalgia for the Light jumps back and forth between astronomers at a high-tech complex in the Andes searching for the mysteries of the universe and Chilean women searching for the bones of their loved ones murdered by the Pinochet government.
The mountains above the Atacama desert provide a spot with great clarity for the telescopes. The desert below is barren, yet in its sands are the scattered remains of husbands, sons and lovers buried there, then dug up and perhaps taken to be dumped into the sea.
The woman shown here has spent twenty years looking for the body of her husband Mario, and vows to keep searching until she finds him, no matter how long it takes.
The connection between the two searches are unlikely yet stronger and more personal than you might think. The stars and bones have more in common than we realize.
This is a beautiful, lovingly-made film that is worth seeing just to experience what can be done with the medium. We're tremendously lucky in Cleveland to have a place like the Cinemateque at the Institute of Art that gives us the opportunity week in and week out to enjoy movies that will never make it to the multiplex.
Top of page |