Just another number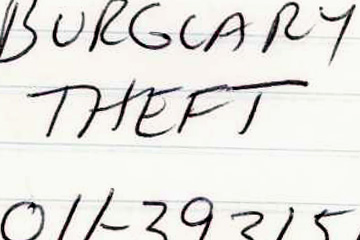 Today we became another statistic, another number, in this case a Cleveland Police report number.
I got home after a quick trip to pick up my car at the garage and noticed a bent-up screen alongside the house.
Possibility #1: someone had pried it off our back kitchen window.
Possibility #2: Joanne had brought an old screen up from the basement to throw away.
Unfortunately it was #1. As I stood outside watching the curtains blow in the wide-open window I debated whether to call 911 or to go inside to see what had happened.
Run for it
Before I could decide, there was the sound of a door opening and three young men trouped out of my basement door. I yelled at them, they bolted for the driveway next door, and I ran after them. When I jumped from my yard to the neighbor's I fell on the gravel drive, and they got a half-block lead on me. I got up and ran to the front in time to see all three cut through a yard near the end of the street and disappear.
What followed was the 911 call, a police car in front of my house about ten minutes later, and all that typically follows. I've had encounters with Cleveland Police that left me frustrated and angry, but Officers Graham and Gonzalez couldn't have been more helpful and professional. The officer from Crime Scene Investigation who showed up to look for fingerprints was pleasant and did his job with a minimum of muss and fuss.
Afterwards when I thought about the whole adventure I realized that falling in the gravel was the best thing that could have happened. What would I have done if I'd caught up to the three guys? They could have beat the crap out of me, although since I was fueled by pure adrenaline I might have put up a fight. But I'm not a fighter, never had been. Not sure what sort of animal instinct kicked in when I saw them coming out of my house.
Happy ending, of sorts
When people go through your entire house, attic to basement, pulling out drawers and opening cabinets looking for something to steal, it's nothing to celebrate. But... could have been a lot worse. Had I walked in and surprised them inside it could have gotten ugly. Had they been armed and aggressive it could have been uglier still.
As it was, we had a mess to clean up in several rooms, and my laptop left with the intruders. We've been joking that we have so little of value to steal they probably wouldn't ever bother to try again. Let's hope they tell their friends.
Life in the big city.
Top of page |