Facebook birthdays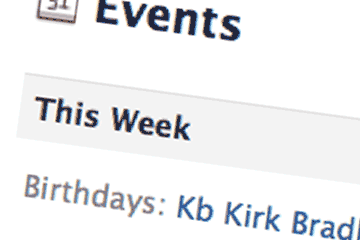 It can't get much easier to send a greeting on a friend's birthday. Facebook reminds you at the start of each week who of your Facebook friends has birthdays that week. Each day it reminds you again.
To send a greeting all you need to do is click a name and you're ready to type your heartfelt birthday message.
That's it. No trip to the store to buy a card and sign it, no envelope to address, no stamp to find, no trip to the mailbox.
At first I was happy about this. I wrote greetings to all of my FB friends who I actually cared about (maybe half the total). On my birthday last year I was thrilled to see a bunch of "Happy Birthdays" posted on my Wall. Since then, though, I've been less enthused.
A numbers game
I began noticing that FB birthday greetings brought out the worst in me. I started thinking about the numbers. What percent of my FB "Friends" sent me a birthday wish? How many did I get vs. other friends on their birthdays?
And then I started paying attention to the sentiment: who said "Happy birthday, Al" to me but "I'm so happy to have you as part of my life. Have a fabulous year!" to someone else?
Seems that this brought out my petty competitive nature. Not good. So I stopped playing along. I rarely send a birthday message on FB except to very close (real) friends. I was feeling good about my new attitude toward these superficial Facebook gestures.
On the other hand
Until today, my birthday.
It started with a stressful family incident that I had to deal with all morning and into the afternoon. Not exactly a celebration. But from time to time I was able to check Facebook on my phone, and as birthday messages trickled in they made me feel better.
Those insignificant, superficial gestures happened because someone cared enough to spend a bit of their time thinking about me. In the big picture, not the same as throwing themselves on a grenade, that's for sure, but better than nothing. Why dismiss this as meaningless?
So I guess I'll go back to sending my friends big ol' "Happy Birthdays" on Facebook. Maybe I can help their day look a little better than it might otherwise. After all, they did it for me.
More
Friends, Facebook, Feedback—Mar. 25, 2009
Facebook: Entertaining or Addictive?—Jan. 25, 2009
Top of page |