Tough audience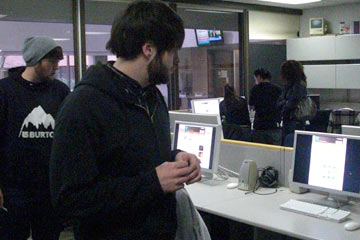 As a designer you often over-estimated the value of your work. You think that because you've invested a lot of time and energy into it, your audience will too.
We got a good reality check on that notion today when we had the Visual Communication Foundation students vote for the best design done by fellow students in the Web Publishing 2 class.
About a dozen designs were set up on computers, and within five minutes all the votes were cast. Each student's labor of twelve weeks, boiled down to a single homepage design, got maybe ten seconds of attention.
Three designs (two by the same student) caught the eyes of my Foundation students. All the rest were lost in the shuffle. That's how it works.
Top of page |